Experiences and Cultural Atractions in South Africa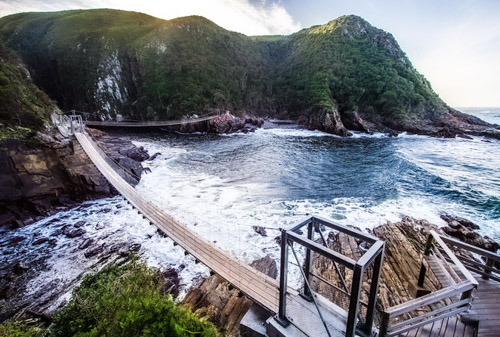 Hanging bridge in Tsitsikamma National Park;
Imaging breathtaking landscapes, vibrant cultures and astonishing wildlife - South Africa has them all!
Immerse yourself into one of the most desired travellers' destinations on this planet. This is the home of Safarisource, and regardless of what your budget is, we will help you finding the most unique experiences that the country has to offer.
How about shark cage diving? Or an early morning bush walk with Kruger Park rangers? If this is not enough "off the beaten track" for you, how about a Samosa cooking class with real descendants from South East Asia in Bo Kaap, Cape Town?
Point is, Safarisource has an experience to accommodate every taste, preference and budget!
Below we've listed some of the must-do.Contact us if you want to learn more!
Hike the Table Mountain
It towers majestically over the Mothercity. The view over city, sea and landscape is breathtaking. No wonder that Table Mountain is South Africa's most famous landmark and one of the most popular tourist attractions in South Africa.
For your hike on Table Mountain there are several possibilities with different levels of difficulty. All ranging from just 2 hours to up to 6 hours.
Visiting this mountain when you are in Cape Town is a must and there are no excuses. If you do not want to walk, you have the possibility to take the 360 degree cable car. The floor of the cabin turns, so that you can enjoy the view once in each direction during the ascent or descent.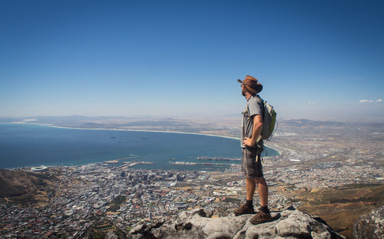 View From the Top of Table Mountain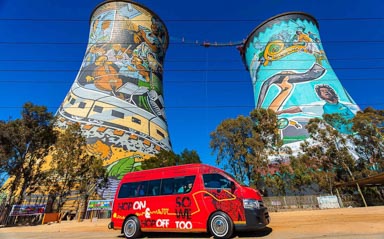 Soweto Township
Soweto
Soweto is probably the most ingloriously famous township in South Africa and is also in Europe a synonym for the black resistance during apartheid.
In Soweto (South Western Township) live an estimated 4 million people in an area of about 120 km². The former township is located only about 10 kilometres southwest of Johannesburg's city centre. It used to be a suburb and is now a separate district of Johannesburg. Experience here a thrilling mix of different southern african cultures! Things you should do and places to be visited are:
Pub Tours & Township Tours, Hector Peterson Memorial Site, Nelson Mandela's home, Kliptown (Freedom Charter)

Cape Agulhas
If you want to experience the end of the world up close, you should go to South Africa. More precisely at Cape Agulhas.
Geographically, this cape is not only the southernmost, but it is also the official dividing line between the Indian and Atlantic Oceans. But other scientists also mention other lines.
The first known European at Cape Agulhas was the famous Portuguese navigator Bartholomeu Dias. He reached Cape Agulhas in 1488 and had a secret mission to find the southern tip of Africa, to circumnavigate it and if possible advance to India.
The history of seafaring and where Bartholomeu Dias stopped can be discovered in the Dias Museum in Mossel Bay. Today, the cape is a perfect stop for a Garden Route tour and is almost always listed in our itineraries.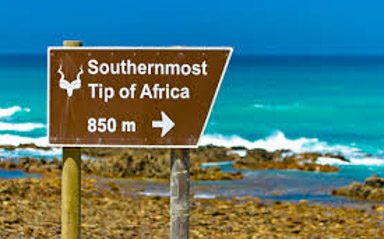 The Southernmost Cape Agulhas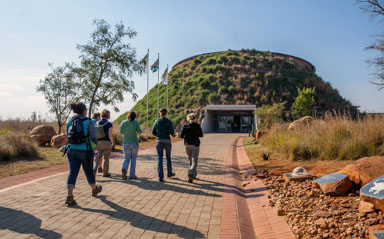 Cradle of Humankind Site
Cradle of Humankind
Have you ever wondered where we humans come from? How did this evolutionary revolution on planet Earth come about? Answers to all these questions can be found in one place: the Cradle of Humankind.
The Cradle of Humankind is one of the eight World Heritage Sites in South Africa. Here the landscape is dotted with underground limestone caves that have produced a rich evolutionary fossil record. The finds have led to the "Out of Africa" theory, according to which most human ancestors came from one place...namely Africa.
The Cradle of Humankind World Heritage Site is located about 50 kilometers northwest of Johannesburg. Gentle, grassy hills, rocky outcrops and river courses dominated the landscape before urban development took its course.
History comes alive here. Thousands of visitors from all over the world flock to this place to marvel at the fossils hidden in limestone caves underground.

Wine Route
South Africa without wine - that would be like a safari without the "Big Five". In the Western Cape Province there are several wineries that produce top quality wines. The conditions are ideal: Mediterranean climate and perfect soils.
Stellenbosch is the centre of one of the best wine growing areas in South Africa... and the world! The Wine Route takes you to the famous wineries in the area. Here, in the fertile valleys of the Berg, Eerste and Bree rivers, vines thrive particularly well.
The wineries, whose well-maintained buildings are often built in Cape Dutch style, are idyllically situated between the wide wine fields. In addition to the opportunity to taste the wines, you can often enjoy a delicious meal in the winery's own restaurant. Take your time, enjoy the wines and the good food - you will not regret the trip to the wineries along the wine route.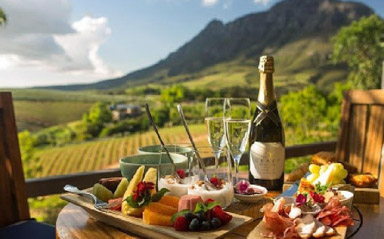 Vineyard WIne Tasting in Stellenbosch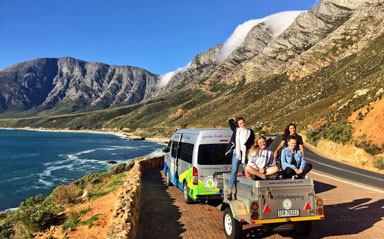 Sea View from a Road in the Garden Route
Garden Route
Is there nothing better for you than to discover a country by car? Then you definitely have to add this tour to your next road trip list: the Garden Route in South Africa! Great landscapes, delicious food, good wine, super nice people and a lot of adventures are waiting for you here!
The Garden Route road trip stretches from Mossel Bay to the Storms River. You have two possibilities to start your South Africa Garden Route road-trip: Either from Cape Town or from Port Elizabeth.

National Kruger Park
The Kruger National Park is one of the largest national parks in Africa with a size of about 2 million hectares. It is considered to be the world leader in the management of nature conservation and conservation.
The park was founded in 1898 under President Paul Kruger as Sabie Game Reserve to protect the wildlife in the so-called lowveld. Only in 1926 the park became a national park and received its current name.
You will find a great variety of species here, because Kruger National Park is home to 336 tree species, 147 mammal species, 507 bird species, 49 fish species, 34 amphibian species and 114 reptile species. Many visitors come for the "Big Five" (elephant, rhino, buffalo, lion, leopard).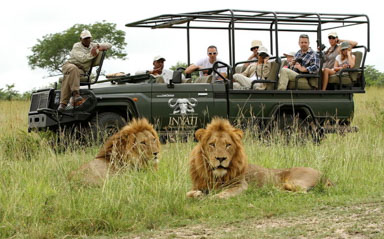 Close view of Lions in Kruger National Park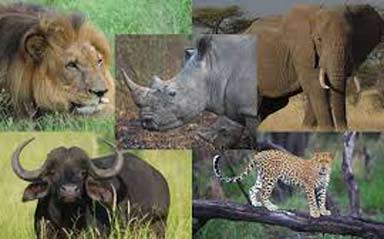 Must See The Big Five in Kruger Park
To the west, many private sanctuaries border the Kruger National Park, and the fences have been gradually removed to allow the animals to move freely in the protected areas. In the north-east, the fences on the border with Mozambique have recently been removed to allow wildlife movement into the adjacent Limpopo National Park in Mozambique.
Many large game relocations have already taken place in the Limpopo National Park, and elephants, giraffes, zebras and buffalo have already been successfully resettled. However, some of the elephant herds have migrated back to South Africa, and it will be many years before the game population on the Mozambique side increases.

Whale Watching
They're back. Hundreds of tons are making their way to the surface. Gracefully like acrobats, the whales turn in the air and then let their mighty bodies dive into the deep blue with relish. In moments like this, animal lovers compete with enthusiasm.
The marine mammals from the icy waters of Antarctica are drawn to the warmer bays on the coast of South Africa between June and November to calve. Nowhere else will you find better opportunities to admire whales from land. Often you are only a few metres away from the largest creatures on the planet.
Contact us for perfect travel plans that bring you closer to the world's largest mammals.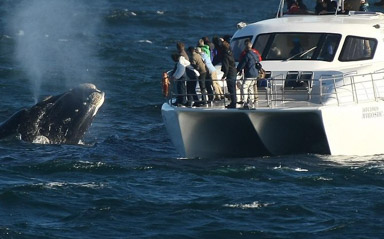 Encounter with Whales in their Migration
Activities in South Africa

WILDLIFE SAFARI

GAME VIEWING

TREKKING

PHOTOGRAPHY

SURFING

CAMPING

CANOEING

FISHING

SCUBA DIVING

CULTURE-TRAVEL
Know before you go to South Africa
GETTING THERE:


Getting to South Africa is easy. It will just take a while! Being the most southern country in Africa, you can expect long haul flights. For example, it takes 12 hours from Amsterdam or London with a direct flight. However, you will most likely have a layover in Dubai, Istanbul or Addis Ababa. Thankfully, flights from major cities around the world and big airlines like KLM, Delta, Lufthansa (and so many more) fly daily to Johannesburg or Cape Town and the prices are competitive. From there, if you have a different destination in mind, take a short (and cheap) domestic flight.

HEALTH:


South Africa is generally safe to visit health-wise. There is however a medium to high risk of malaria from October to May in the east of Mpumalanga Province (with the entire Kruger Park and adjacent private game reserves) and in the north and north-east of Limpopo Province. A malaria prophylaxis (see below) is recommended for this period. If you are European or American you do not need to get any specific vaccines to enter the country. However, some transit countries on your trip to South Africa may make you required to get a vaccine against yellow fever.

SAFETY


South Africa has a high crime rate, especially in large cities and their peripheral areas. The vast majority of violent crime takes place in areas and circumstances that do not affect travellers. However, they can still become the target and victim of theft, burglary, robbery and similar crimes.

VISA AND PASSPORT:


If you are an EEA or an American citizen, a tourist visa upon entry is given to you with a duration of 3 months. Visa can be extended for another 3 months. However, please always refer to the Government of South Africa's immigration website for the most up to date travel information.