Experiences and Cultural Atractions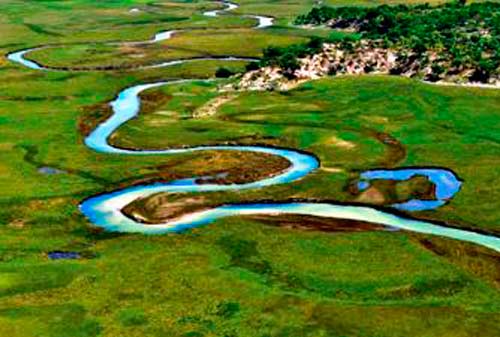 Kissama National Park
Since Angola was brought back to life after the 40 years war, it has plenty of experiences to offer. Many of these will depend on your area of interest but there are general ones as well that you simply can't miss! Find more about the possibilities Angola offers and check our best travel packages..
With such a complex history, Angola has plenty of cultural sites for travelers to check out. You can discover plenty of Angola attractions by yourself but here are some very good starting points to get you going in the right direction!
Serra da Leba
The Serra da Leba road trip is one of the most amazing roads in the world and it will keep you mesmerized for the entire time you are driving on it. If you find yourself in Angola, you can't miss checking this out of your main destinations because it is worth every mile of it! As we noted before, this road is not just amazing in its geographical aspect but also thanks to its unique legend.
The road, considered a masterpiece in road engineering, was built by a Portuguese woman who died upon viewing it on the day it was completed. The Serra da Leba pass is elevated to 1845m and has 7 hairpin bends that will test your nerves. It's regularly featured as one of the most dangerous roads in the world due to its features.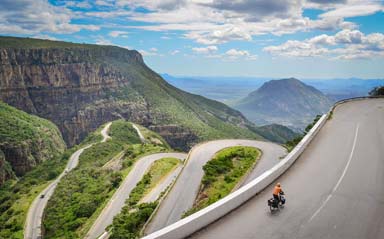 Road through Sierra da Leba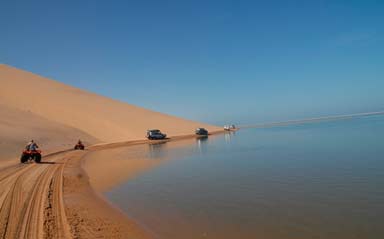 Where desert meets the sea - Foz de Cunene
Foz do Cunene
Foz do Cunene is going to be another experience that you will enjoy at its highest standards. The region is quite impressive and the natural contrasts you will find will definitely give you plenty of stories to share with your friends and family as soon as you get home. Not to mention the photos that you will bring with you as sweet memories to keep and look back at!
The vegetation in the area where the river enters the sea is in stark contrast to the surrounding desert. There are imposing sand dunes, lush river vegetation, salty marshes and the stunning Atlantic ocean. Shallow lagoons are attractive to birds and marine life. Fishing is also popular here. Make sure to spend time here coming from the Namibe desert and traveling to Iona National Park.

Angolan Culture
Angola is a poor country where you can meet some amazing people. The local economy started to develop in an impressive way and you can witness this when you enjoy holidays in Angola. You will be able to see the potential of the country as you are travelling through it and even learn a thing or two from the people here who went through so many historical events in the past decades.
You can even get involved in some of these programs that aim to help and support the future generation of Angola and increase the chance of those children to have a better life. Many indigenous cultures also prevail in Angola, including the Himba people.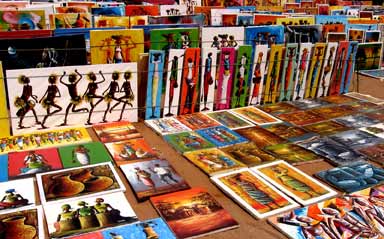 Angolan public art market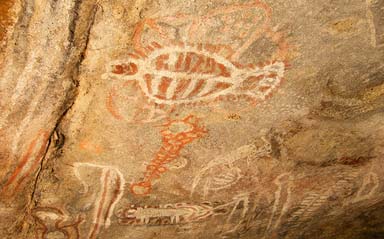 Tchitundu-Hulu ancient paintings
Tchitundo-Hulo rock paintings
If you want to see some archaeological wonders, these Tchitundo-Hulo rock paintings will definitely impress you. They can be found in the Namibe province and are over 20 000 years old! However, you should go with a talented guide who knows where all of them are hidden. To get to them, you will need to drive around 137 km, west of Namibe, in the vicinity of Capolopopo. And you can admire hundreds of paintings! The main set of these paintings is reproduced on a granite rock that is holy to locals.

Lubango
Whilst Luanda is the capital of Angola, Lubango is considered the capital of the South. The main cultural attraction in this city is the Statue of Christ the Redeemer which can be seen watching over the town from a higher cliff, a bit like the statue in Brazil.
Besides this incredible statue, Lubango is well-known for its colonial architecture that tourists admire every time they are passing by an interesting building. The Portuguese influence it's still strong in this city but it does create a unique cultural charm to the place. Indigenous culture has merged and blended with the Portuguese, creating an architecture well worth exploring.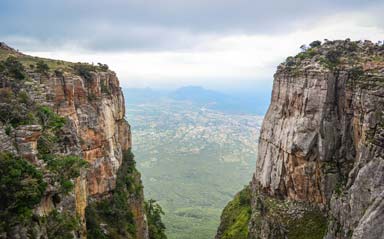 Tundavala in Lubango. A plateau drops 1000m straight down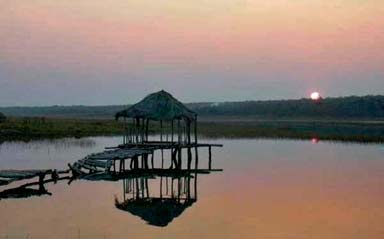 Dilolo is the largest lake in Angola
Dilolo Lake
Dilolo Lake is one of the most popular touristic places in Angola and it can be found in Moxico. This is also the largest lake in Angola with a length of 12 km and it is situated at 1000m above sea level.
The legend says that the waves of this lake are some sort of supernatural force meant to keep people away from fishing in it. But if you want to swim in this lake, the best month to do that is September thanks to its 32 degrees Celsius temperatures.

Benguela
The city of Benguela is another popular touristic point of the country and you can find it in the West area of Angola on the shores of the Atlantic ocean. The economy of this town used to be based on mining and slave trade to Cuba or Brazil. Tourists are so welcome in Benguela that an international railway was established in the vicinity of city to facilitate travelling in and out of it.
The Portuguese architecture that can be seen here is amazing and for the most part it remained intact. Also, the ocean-side makes the city a perfect place for a romantic holiday in Angola! Benguela is definitely one of the places to visit in Angola with a warm climate throughout the year.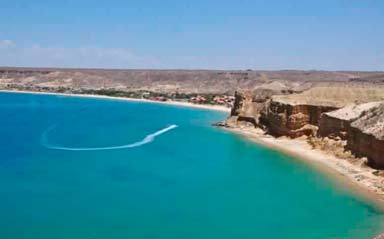 Coatinha Beach in Benguela
Activities in Angola

WILDLIFE SAFARI

GAME VIEWING

TREKKING

PHOTOGRAPHY

SURFING

CAMPING

CANOEING

FISHING

SCUBA DIVING

CULTURE-TRAVEL
General Info Angola
If you made the decision to travel to Angola you have to know that Angola tourism is in a continuous development. But if you like to experience unique holidays in Angola and get a vibe of the most amazing places in the country there are plenty of ways to do that with your friends and family. You can get a great Angola safari deal during your trip and even make some interesting discoveries on your own. Keep in mind that there are safety measures that you need to consider but overall, you should have no major issues during your travel to Angola, Africa!
Know before you go
GETTING THERE:


The best way to get to Angola is by plane and airports are fairly common in the big cities of the country. As a tourist you will most likely fly into the Luanda's Airport which is Quatro de Fevereiro Airport. TAAG Angola Airlines is the state owned national airline and most domestic flights are made through this airline.

SAFETY:


As far as safety goes. Angola is a safer country than it was years ago but the dangers are not all the way gone. The crime risk is still moderate in Luanda and you should not get a taxi cab without double checking it. Overall, Luanda is considered safe during the day but nightlife should be experienced with caution.

HEALTH:


Angola presents a risk for malaria and you should be aware that the first symptoms of the infection are not so obvious. Moreover, you should have your regular vaccines up to date: Typhoid disease, Hepatitis A, Hepatitis B or Rabies. The most specific vaccine that you might consider taking is the Yellow fever. As always before traveling, it's important you have a travel insurance or similar in place. Luanda has the best clinics in the country, so in the rare event of a health issue, it's preferable you go to one of these institutions.

VISA AND PASSPORT:


To enter Angola, you will need a valid Passport, and a visa depending on your country of residence. Citizens of 8 countries don't need a Visa to visit Angola for a period of 30 days: Botswana, Mauritius, Mozambique, Namibia, Seychelles, Singapore, South Africa, and Zimbabwe. The tourists who need a visa will have to obtain one from the Angolan diplomatic missions. Such a visa is valid for 30 days and it can be extended to another 30 days. Angola is currently experimenting with e-Visa and is looking to make it widely available by 2019.
ANGOLA CULTURAL INFORMATION
PEOPLE:


Angola has a population of 19 million people and they are very welcoming toward tourists and foreigners visiting their country. Most of them will be happy to share their culture and traditions with you as well as their amazing history. You will sense a certain level of pride when you talk to Angolans and considering the civil war and the Portuguese era, it is quite understandable to feel proud of their present. The diverse ethnic groups of Angola include the Ovimbundu, Himba, Ambundu, Bakongo, Chokwe, Avambo and other peoples.

FOOD:


Since Angola was many centuries under Portuguese direct influence, its cuisine is very similar to the Portuguese one. The most common ingredients are flour, beans, fish, rice, pork, and chicken. Angolan kitchen is rich in different sauces, vegetables like sweet potatoes, onions or tomatoes and the most common ingredient used to add flavor to different dishes tends to be garlic. The most common dish consumed by Angolan families is Funge but just as popular are different combinations of meat and rice or beans.

LANGUAGE:


The official language of Angola is Portuguese but there are other secondary languages that are locally spoken such as Kikongo, Kimbundu and Umbundu. In Luanda, you can find people who speak English as well as guides that will show you around so there is no need to worry.

CURRENCY:


The Kwanza (AOA) is the national currency of Angola. You can exchange your currency into the Kwanzas by using the services of a bank. However, you can use your credit cards as most supermarkets, stores, and hotels will allow such transactions. For safety reasons, for large transactions it is better to use credit cards than cash. All in all, for your comfort, you should have both methods of payment available!